Doubt
Newsletter #2
"Every child is an artist. The problem is how to remain one once he grows up."
- Pablo Picasso
As my sabbatical approached, a very modern impulse overtook me. I had begun to follow a bunch of artists and creativity accounts on Instagram. At the same time, I was feeling slightly guilty about not having something to show for this project. "Hey!" I thought, "A sabbatical Instagram would be fun." A few days later, I asked Ev to take a photo of me while we were having a picnic in the botanical garden. Never one for moderation, he took approximately four million, holding his chubby little finger down incessantly on the camera button. From that endless roll I plucked a profile picture for my new account, and then posted the announcement about my sabbatical on my main account. @krista_makes was born.
This was a Saturday afternoon; by Saturday night, lovely and positive and encouraging comments had come rolling in! "Congratulations! Can't wait to see what you do!" Many of my friends and family followed my new account! Just like I asked them to! And as all this happened, a wave of anxiety and dread washed over me.
Before I shared my sabbatical plans publicly, I was completely comfortable with the admittedly loosey-goosey terms I had laid out for myself: Use The Artist's Way as a structure, remain unattached to outcomes, see what happens when I take the time to do creative work every day. I had a list of ideas - things to read, classes to take, comics to create - but I was adamant about keeping my expectations low. This felt good; I felt an expanse of possibility opening up before me. I felt free.
Now when facing a (friendly, loving, kind) audience, it was like a mirror was held up to my plans, and they were revealed to be Extremely Stupid and Bad. I was flooded with doubt about myself as a creative person and about my ideas for how to spend the weeks ahead. A spiral began. "I am not an artist! There are so many talented people out there! I am nowhere near as talented as them! Why would I share my crappy art? I haven't written anything in years; I don't even have any ideas for what I might write! I will never do anything good enough to share! Anything I share will be terrible and will just expose me as an uncool dummy! This is all a terrible idea!"
I felt pretty shitty for a few hours, and here is the hokey but true thing that made me feel better: My 3.5-year-old daughter asked me to paint with her. Gigi, like many kids, is a brave artist. She draws and scribbles with abandon. She doesn't hesitate. She proudly presents me with all of her work as though every scribble is a stroke of genius.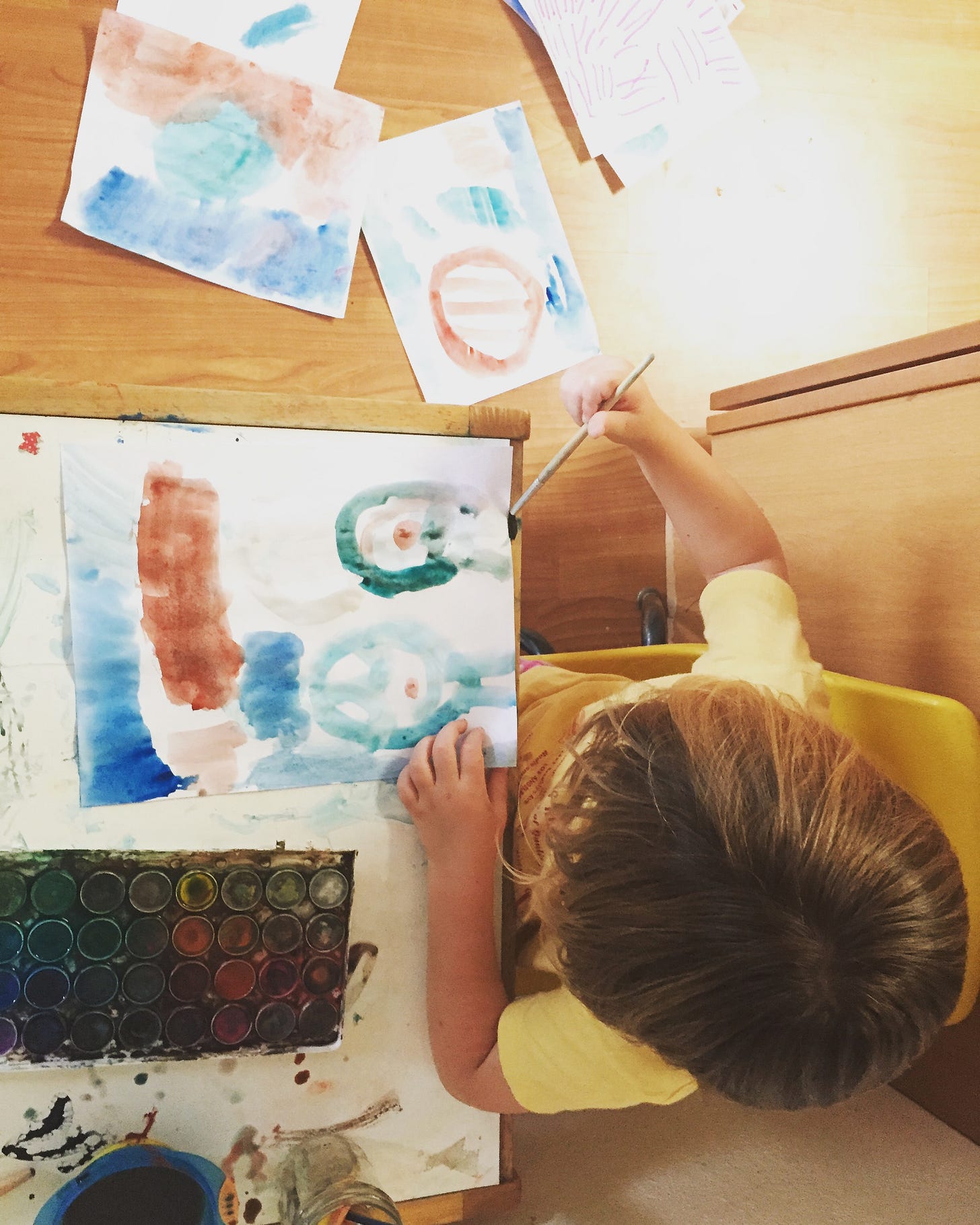 We sat together and painted, and I felt calm and happy.
I love watching Gigi make art; it reminds me of the philosophy of one of my creative heroes, Lynda Barry. In her book "Making Comics" she begins with a chapter about how children innately know the power of art. "We draw before we are taught," she writes. "We also sing, dance, build things, act, and make up stories long before we are given any deliberate instruction beyond exposure to the people around us doing things. Everything we have come to call the arts seems to be in almost every three-year-old...we were doing all of these things before we knew what it was we were doing. It seemed to be something coming from the inside." When do we lose this ability? When it goes, what kind of freedom goes with it? 
I also began The Artist's Way this week, and serendipitously, the first chapter is about recognizing your internal "censor" (aka the little voice inside telling you that all your ideas are Extremely Stupid and Bad), creating a practice of affirmation, and "protecting the artist child within." (Listen, this book is cheesy but I'm choosing to lean in to it.) I had already planned to write the newsletter this week about artistic doubt, so when I realized this section of the book was about affirmation it felt like the stars aligning. 
The practice of recognizing and then quieting your own doubts is meant to help us return to the effortless freedom we all once felt when we sat down to make art, without expectations or fear. When I was painting with Gigi, my doubt about identifying myself as a creative person, my abilities, and my commitment to spending time doing creative work evaporated. It wasn't that I suddenly felt that I was an artistic genius; it was that it didn't matter anymore, and actually had never mattered to begin with.
THE WEEK IN WORK
I'm imagining my sabbatical as an experiment in making creativity a habit, and the best way for me to do that is to have some structure. Here's what I'm doing this week in terms of daily routine and projects.
Moving on to week two of The Artist's Way. The book prescribes writing three pages longhand in a journal (the "morning pages") every day and once weekly taking yourself on an "artist date" to stimulate your creativity. This week I had planned to do some outdoor drawing for my outing, but those plans got waylaid by the smokey air. Bummer, but TBH this whole sabbatical feels like one big artist date.

I started the online class "Daily Observations: Drawing Objects from Life" on CreativeBug.

During the times when I want to make something but don't know where to start, I've been giving myself low-stakes projects that I can complete in 20 minutes or less.  A few of these include: drawing a still life from a photo in my phone, handwriting and decorating a poem I like in my sketchbook, or doing a ten minute abstract watercolor and then adding a quote I like on top of it once it's dried. These are fun little exercises if you're looking for a way to add some art-making into your day. 

I'm still figuring out my routine and will probably be tweaking it a bit. Right now it feels like I have a very long, self-imposed "To Do" list in the morning (including morning pages and other elements) before actually getting started, so I want to streamline that and see how that feels. Eventually I'll share where I land.

And of course, still sending out a weekly newsletter (this is the second - here's the first, ICYMI) and occasionally posting on @krista_makes. 
MAY I RECOMMEND
It would not be a newsletter without a fun links roundup, plus I do love recommending stuff. I also love receiving recommendations! Tell me what you're into by replying to this email. Anyway, may I recommend:
Listening to Who? Weekly. I have never before broadcast my love for this podcast, because the subject matter is frankly silly. But the time has come. If you already listen and are a fellow Wholigan, please tell me so, and also know that we are now best friends. If you don't listen: This is a podcast about b-, c-, and d-list celebrities (Whos) and I frequently have no idea what/who they're talking about. Still, I recommend it. It is a perfect and fun and weird escape mechanism.

Exploring this exhibition by artist Stephanie H. Shih, on view online through September 2. She creates intricate and precise ceramic reproductions of Asian American pantry items - my favorite is the Aloha Shoyu, duh. Her Instagram account is great because in addition to being an artist, she's an activist and has been participating in BLM protests almost daily in NYC; her Instagram stories show behind-the-scenes moments of the ongoing and powerful grassroots activism happening there. I also loved her Grub Street Diet from June, another form of documenting the protests, framed by what she ate that week.

Reading this poem by W.S. Merwin about gratitude and sorrow and how it all mixes together, a piece I have been thinking about a lot these days.

Texting a friend you haven't spoken to in a while. I've used my overthinking about all this creativity stuff as an excuse to talk to friends about it, including some artist friends of mine whom I haven't been in as close touch with as I would like. (Hi Connie! Hi Siobhan!) They have given me some incredible wisdom and encouragement and I am so grateful for their knowledge and friendship. If nothing else happens I'll consider this project a success because it helped me revive lines of communication with very special people. Send someone a text who has popped into your head. Nothing to lose!

Getting out the vote. ELECTION DAY IS TEN WEEKS AWAY. Ten weekends. Imagine the moment, the announcement that Biden wins on election night. Allow yourself to hope. (I realized I hadn't done this; 2016 fucked us all up.) Now what are YOU going to do to make it happen??? This isn't rhetorical. What are you going to do? Make a plan. And if you want ideas or an accountability partner hit me up.
Thanks for reading! I would love to hear from you! What are you up to? What are you reading? What's your favorite brand of soy sauce? xoxo