Discover more from Making and Doing
Thoughts on creativity, writing, and spending time making things
What I'm doing
Newsletter #5
I didn't send a newsletter last week, because last Wednesday smoke from wildfires and the Bay Area marine layer combined to create an apocalyptic Blanket of Doom that disappeared the sun. That morning I kept looking out the window. Sunrise came and went without a sun, and my thoughts went from "The sky looks a little weird" to "This feels bad and wrong and the world is definitely ending." I closed all the curtains, the dark and empty sky unbearable, and turned on every light in the apartment. I logged Ev on to Zoom school and stress-baked some banana bread and sorted postcards to voters, trying to remain calm and focused. The gray unlit sky with a distant layer of glowing orange, the dense stillness in the air, cars driving with headlights on at noon. My lizard brain could not handle it and I was, in short, freaking out big time. 
We packed up the CRV with kids and snacks and drove the six-and-a-half-hours to LA to stay with Sadie and Scott and their new puppy Patti, the first time we've ceased distancing in six months. The air was much better there for a few days, and even when some of the smoke drifted south and the air quality deteriorated, it was so incredible to be with people we loved, sitting together around a table and eating dinner. Add to the very long list of things I hope to never take for granted again: the sun; clean, breathable air; a shared meal with friends. 
Ironically, I was going to write last week's newsletter about "my routine" when my routine went completely out the window. However, I'm back at home now, and five weeks into my sabbatical I can say I do in fact have a good structure going, barring natural and psychic disasters. I've always been interested in routines (The "How I Get it Done" column in The Cut is a favorite read of mine) and I love hearing what other people do that works for them; I think subconsciously I am looking for that silver bullet, the magic element that, if I make a habit of it myself, will solve all my problems and end my quest for self-improvement. Maybe one day I'll find the key that unlocks it all for me, if I dabble enough.
Anyway - here it is, my routine and all its elements.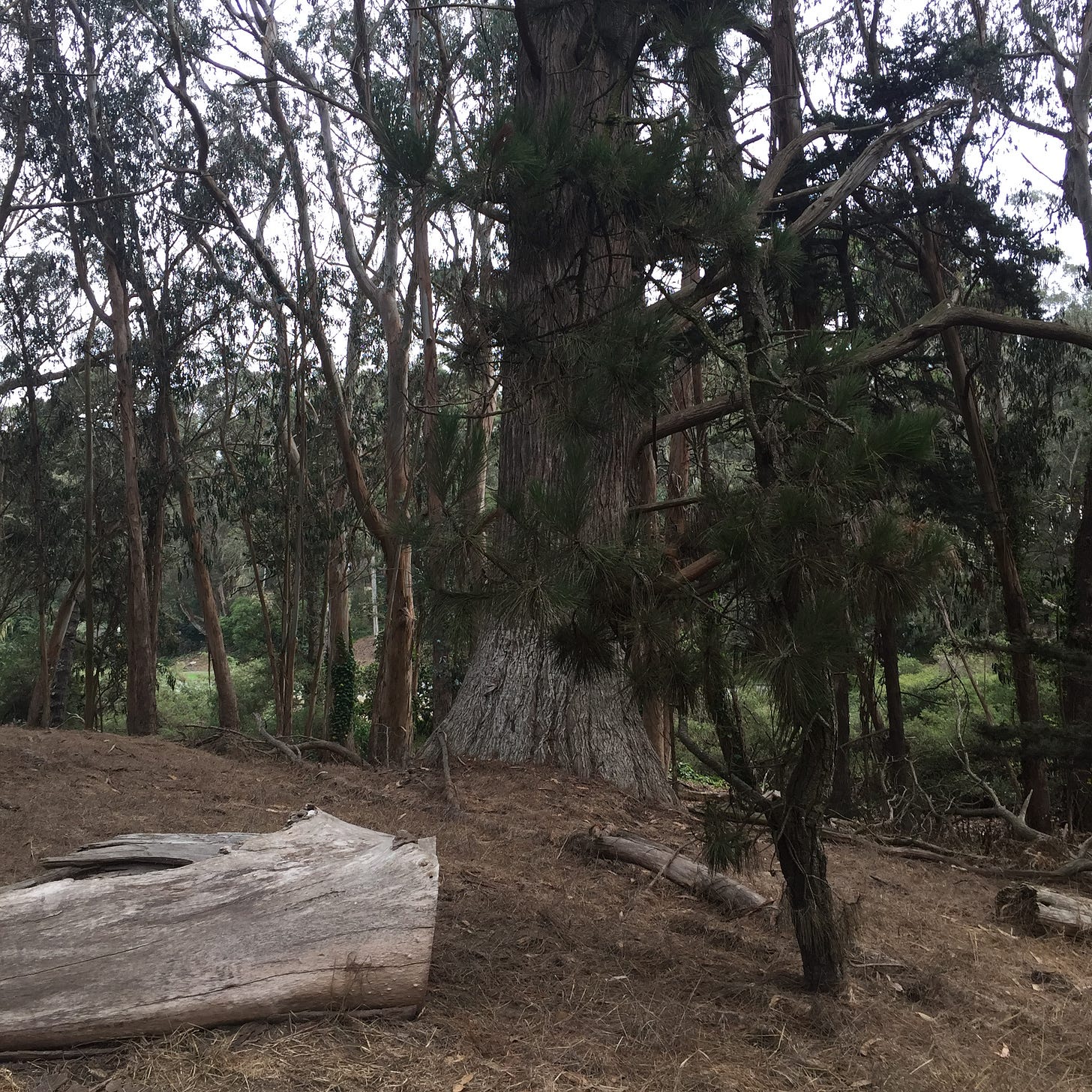 My meditatin' stump
What I Do: 
Morning Pages. Three pages, long hand, about whatever. This is the first thing I do every day after I wake up. They take 30 minutes or so and I sometimes struggle through them. However, even when we were on the run from the smoke last week, the morning pages were the only element of my routine I kept up with daily. They may not have served up creative inspiration, but they did help me process my fear and stress and anger. Someone else described morning pages as a vacuum cleaner for the brain, a description I endorse!

A positive new addition to my routine as a result of Coronavirus: A daily walk/run. I definitely did NOT do this before quarantine. We live a few blocks from Golden Gate Park and I now have a nice little route going that includes some wooded areas and is free from street traffic. Depending on how much I run vs. walk, it takes between 30-45 minutes, and is often the only time I get outside during the day. During this walk I also pause, sit on a log, and meditate for 5-10 minutes.

Daily "Journal." When I began sabbatical, I toyed with a daily journal routine that included a LOT of different and new-to-me elements (gratitude lists, affirmations, etc), inspired by some other creativity accounts and productivity journaling advice. Those practices really do seem great, but they weren't for me; I found they took me too long, and I was anxious to get on with it. So after trying it for a few days, I pared down my daily routine to what I had already been doing for a while: A "To Do" list, followed by a daily tarot pull. I was pulling a couple cards every day prior to my sabbatical and it turns out that many people do this as part of their creative practice! Tarot is great for looking at things from new perspectives, reflecting, and making connections. I write down the cards, look up their meanings, and write a quick paragraph about how they do or don't apply to what I'm thinking about. I use The Wild Unknown deck and guidebook, and I supplement the guidebook (because it's very minimal) with Michelle Tea's Modern Tarot.

Then I get going on whatever I've decided to prioritize that day. If I don't have something in mind, I pull from my Google Docs. It could be newsletter writing, a watercolor class or project, a comic idea, or other writing. I usually have a solid three hours of time to do whatever I want before I have to go upstairs and relieve Spencer. A happy discovery I've made is that this time FLIES by. Even though it's often kind of unstructured after the morning routine, I'm never bored. It just feels really good.
Where I Am: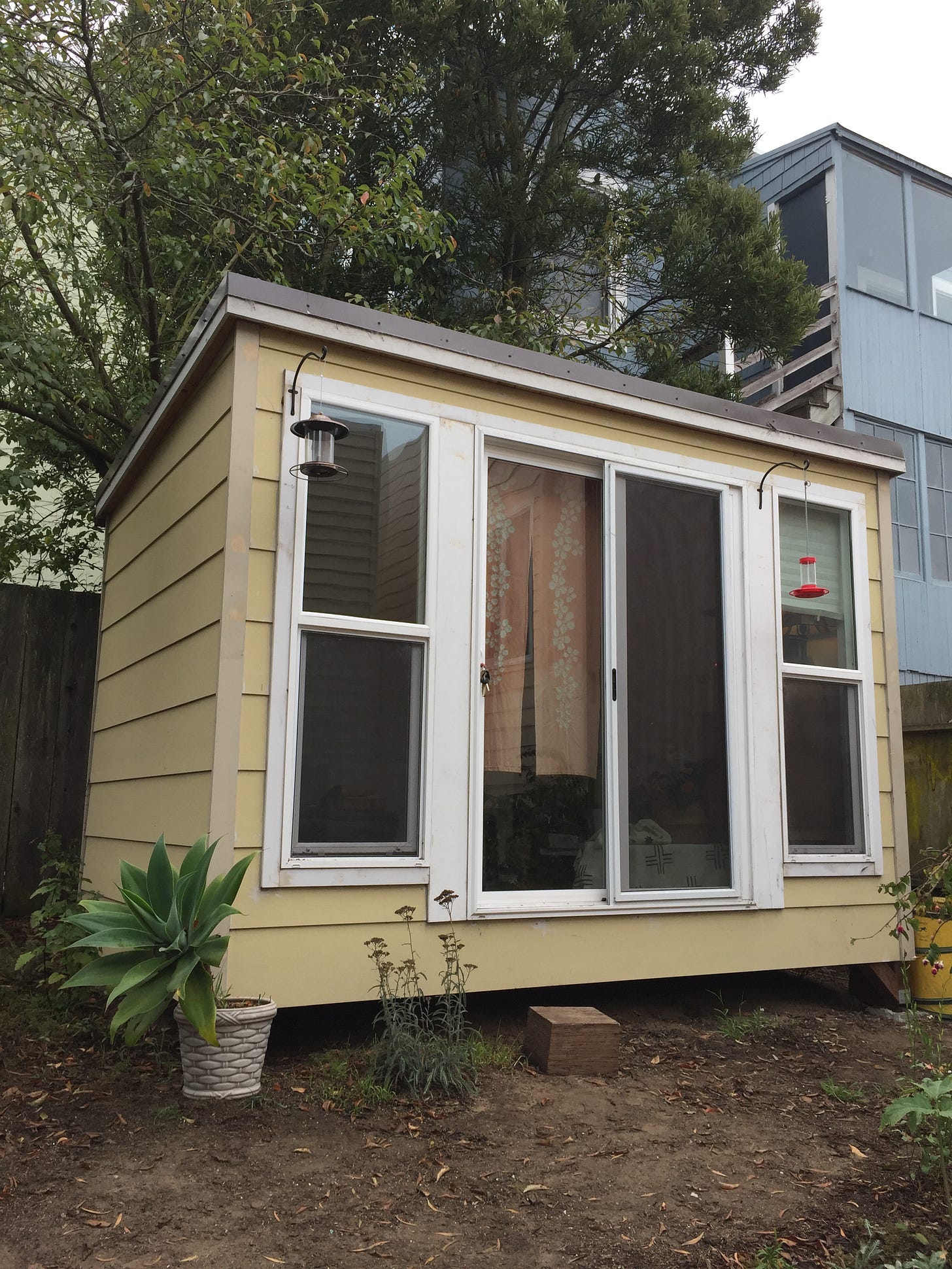 The beloved casita.
We have a backyard office we call the casita, and which sometimes feels like the glue holding us together. Having a work space that is not your kitchen table is an amazing privilege and having it be totally separate from your house is just WOW. It's quiet, clean, and there are No Kids Allowed. I'm really sensitive to my environment (realizing this is probably why the sky last week led to a meltdown) and we've made the casita into a comfortable and cozy haven. On Connie's advice I got a good-smelling candle and put up some cork board where I pin stuff I like. For a long time I assumed mood boards to belong to the realm of..I don't know, interior designers? Devotees of The Secret? But I have learned they are endorsed by artists across the land, and it has brought me a lot of joy to have a place to put up random snippets, drawings, and photos.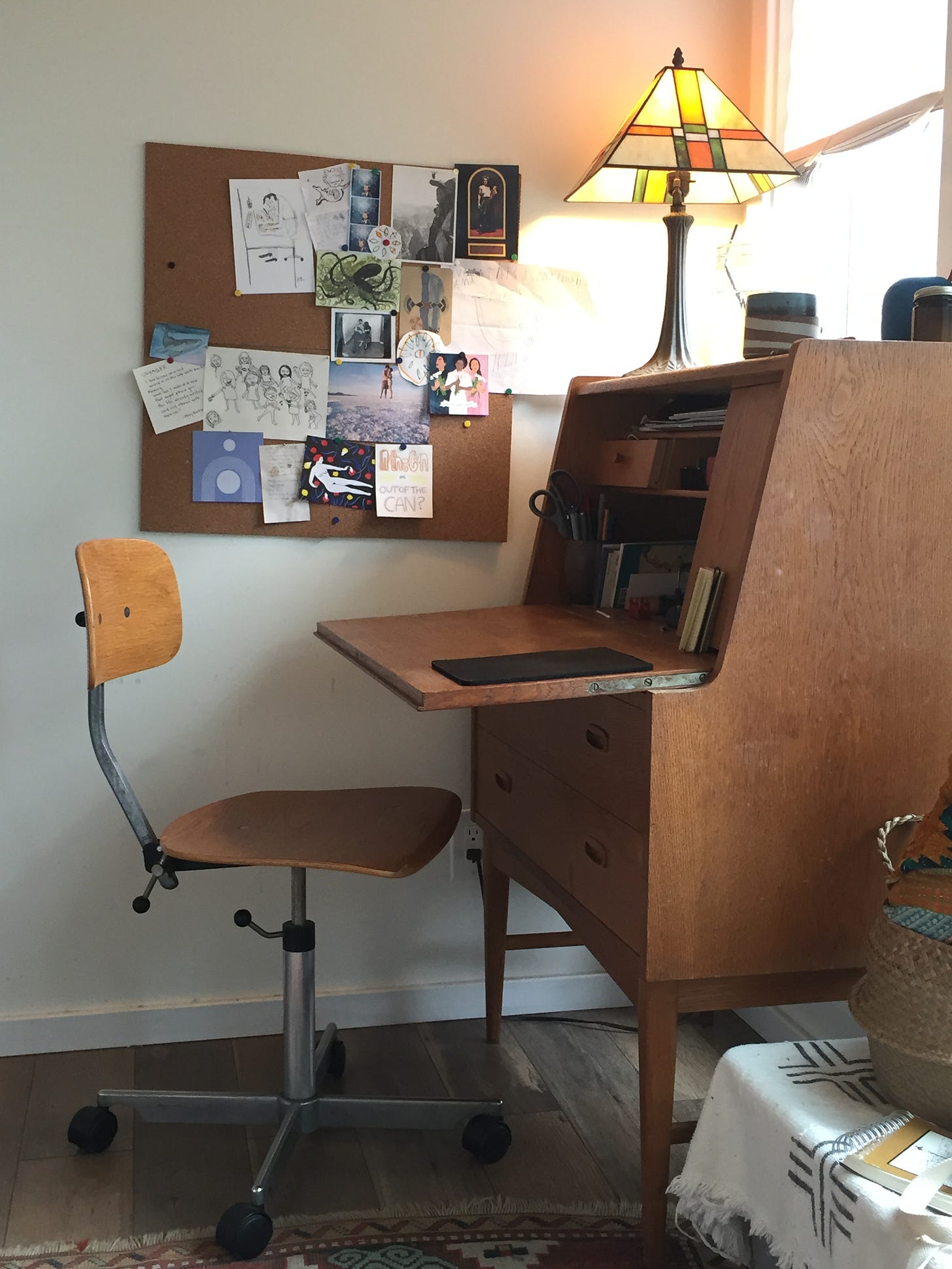 What I Use: 
Google docs. My Google Docs are a mess of random thoughts, half finished projects, links, and notes from which I can draw ideas for projects.

Notebooks. I have about five notebooks going right now. I use a separate notebook for morning pages, a daily journal, a sketchbook, a comics journal, and a little Field Notes notebook which I carry all the time to jot down thoughts. I have many random empty notebooks I've acquired and am trying not to buy more but, you know, I'm always looking.

An undated monthly calendar pad I got a while ago at the dollar section in Target, where I put in weekly goals. It helps to keep my eye on the big picture - these eight weeks are flying by -- and helps me plan things like artist's dates and phone-banking, which makes me more likely to actually do them.  

Pens and stuff. I've bought a few supplies (Spencer to me last week: "Do you really need this many pens?") and I'm enjoying them ALL and I MIGHT NEED MORE, SPENCER, but the ones that feel like a discovery good enough to recommend are Stabilo pastel highlighters (they look cool, work well, feel good) and my beloved and previously recommended Pilot Precise V7 RT.
What I Don't Do:
Look at my phone. I really don't! I put it on Do Not Disturb when I get into the casita. My screen time is probably way down compared to non-sabbatical time and I've been really loving the break. This includes less Instagram, email, Twitter, and news doom scrolling.

Chores and life admin. From emails, groceries and meal planning, cleaning up, organizing, etc., I honestly feel like I could do chores for 80% of the day. I know how easily the hours can be sucked away by that stuff, so I just don't do it during sabbatical time. My house is probably also less clean than in normal times but whatever!

Read. I read a lot of fiction, but during sabbatical time, I don't read whatever I'm currently reading for leisure. I DO read books, essays, or poems that are related to things I'm thinking about but I haven't been reading much in the casita at all.
THE WEEK IN WORK
I fell behind on completing Week 4 of The Artist's Way and starting Week 5, but I'm catching up! Still doing morning pages. This week I managed to squeeze in an Artist's Date on Friday when we were back home and the sky was clear. I took a walk through the San Francisco Botanical Gardens, one of my favorite places in the city, and took photos and did a little watercolor.

A little newsletter writing, a little creative writing, a little drawing here and there.

Continuing to post occasionally on @krista_makes and sending this weekly newsletter. Here are the archives in case you'd like to catch up.
LETTERS OF RECOMMENDATION
Checking out this Nancy comic. Nancy's mom is a Virgo.

Subscribing to The Workbooks. I randomly discovered Julia's Instagram account, and her related newsletter inspired me to start this newsletter as a way to have a weekly project during sabbatical. I like her concept of office hours and her regular accounting for her creative endeavors as a busy mom.

Listening to my Sabbatical Tunes playlist on Spotify. I listen to music a lot while I'm drawing, and I've been slowly building a playlist of songs I kind of can't get enough of.

Watching Alone (on Hulu and Netflix), where survivalists are dropped off in gnarly climes and then try to slow their inevitable starvation by any means necessary (eating ant larva for example). They are truly alone (they film themselves) and there is very little obvious production interference. Something about it is perfect for this time, when we all feel a little bit alone, and very much like we're surviving day by day. At least we don't have to fend off wolverines! Small comforts.

Talking out the vote. We are less than 50 days to the election! Watch AOC's Instagram live from Friday, then reach out to your networks and make sure your friends and family have a plan to vote. This is an amazing resource on how to vote in every state, and this is a great conversation guide on encouraging people to make a voting plan.
Thanks for reading! Do you have a daily routine? What's your favorite kind of notebook? Would you eat ant larvae? Reply to this email and tell me!