What's the point?
Newsletter #7
"[The] act of imagination is actually an act of survival. It is preparing us to imagine possibilities and hopefully survive those possibilities."
- Professor Giriga Kaimal, researcher in art therapy
"In the can or out of the can?"
- Lynda Barry
I've been thinking this week about two guys named Dan and Fowler, contestants on season three of Alone. Survivalists had already been in Patagonia for 30 days when a particular episode focused on Dan, Fowler, and their differing strategies. (Spoiler alert, I guess, if something that came out in 2016 can be spoiled!) From the beginning, Dan was adamant that his ticket to winning was to expend zero unnecessary energy - a very reasonable and logical plan, considering that the winner is often the person who has essentially starved the most slowly. Dan's M.O. was to preserve every last calorie, and so we saw a lot of Dan sitting at his campsite, staring dead-eyed into the fire, opining frequently about how stupid it would be to do anything that could be considered a waste of energy. He literally picks up a piece of wood, shows it to the camera, and scoffs, "What am I going to do, carve a Santa Claus out of this wood or something?" 
Cut to Fowler, a self-identified "maker" and boat-builder from Maine. We see Fowler expending a lot of energy and getting very tired doing so—building an elaborate and beautiful shelter; a fence; a dock; a duck trap with water wheel; a "wizard staff" that he used as a journal, carving into it symbols that memorialized how he felt and what he did each day; and yes, many little carved figurines, though none of Santa Claus. For a while I thought Dan was on to something, and I hated that he was going to be right. Grit, tenacity, and utter commitment to caloric math was going to win the day. But then, Dan just...couldn't do it anymore. He wasn't starving or injured. He was bored, and lonely, and wanted it to end. Dan tapped out on day 35. Fowler kept going, outlasting many other contestants after Dan, losing 70 pounds, eating root soup and crying about missing carrots, and everyday making a new set of bamboo chopsticks. Finally on Day 87 (EIGHTY-SEVEN!!!) Fowler was declared the winner. He still holds the record for the longest-lasting contestant on any of the show's six seasons.
Since the very first day of my sabbatical I've been asking myself one particular question, circling around it again and again, peering at it from different angles. From one side: This time off is an incredibly rare opportunity. There are so many things I could have chosen to do that might be more productive, useful, a better use of my time. And I'm spending them "being creative?" What's the point? From another side: I don't want to be a professional artist; I don't have a big audience or big ambitions for anything I make. Whatever I do will likely have no measurable outcome. What's the point? And finally, from the front: Crises near and far have rolled in one after another like tidal waves. Assaults against Black people amidst ongoing anti-racism protests; the fires and smoke in the West and the growing certainty that we have irrevocably harmed the planet; the death of Ruth Bader Ginsburg; reaching the 200,000 milestone in the number of Americans who have died from COVID-19. In the midst of all this, here I am in my backyard, drawing a farting seal. Truly, deeply, sincerely, I wonder: What is the point?
Now as my sabbatical nears its end, I have smoothed over in my mind the first and the third angles a bit. Regarding question one: I can see that wondering if being creative is the optimal use of my time is capitalism talking, and he is loud and annoying and ruining the vibes at this party. We're here for a good time, not a long time, baby! Wondering if it was the correct decision to embark on this particular project, instead of, say, learning to code or something is, well...not the point! And so in my continued efforts to unlearn the idea that efficiency and optimization are characteristics of goodness and worth, I will mark this question as irrelevant.
The other question is very relevant, but I have settled on the fact that it's unanswerable. I think that right now I would be wondering what the point is no matter how I was spending my days. Aren't we all wondering that a little bit? In the face of everything we're up against, as we continue to go about our lives as best we can, who does not at some moments feel a little like we're rearranging deck chairs on the Titanic? Obviously there are many sources of joy and hope and optimism, and I absolutely believe that individual activism is meaningful and effective. Not to mention that it helps me to be engaged - to write postcards to voters, set up donations, text bank, call representatives, scream into the void - but doing that all day long for eight weeks would not be a tenable or effective solution to everything that troubles me. Beyond that, why we should and do carry on with our lives in the face of death, destruction, evil, and sorrow is an eternal mystery, and of course I don't know the answer. When I think about why I think the reason must be something like the sun; beautiful, ever-present, impossible to look at directly. 
That leaves the last angle: If I don't want to be An Artist, if I don't have big ambitions for my art, if I'm not a gifted genius whose work will change the world, then what's the point? Why spend my limited time and energy on making art?
On the third day of my sabbatical as I was having one of my earliest crises of purpose, I texted with Siobhan asking her about this. Siobhan is a landscape architect, artist, and teacher, and she instantly had a succinct and compelling reply:
"I have three questions for you to research. How many oil paintings did Winston Churchill produce? How many times did the Wright Brothers visit the Louvre while they were in Paris? How many plays did Catherine the Great write?

These people accomplished unimaginably great and difficult tasks. And they thought that exploring art was a good use of their time. Why?"
First, a moment to acknowledge that I have the smartest and coolest and most beautiful friends on the planet. Second, in case you're wondering: Churchill created 550 paintings; Wilbur Wright visited the Louvre 16 times when he was in Paris to exhibit the Wright Flyer; and Catherine the Great wrote nine operas, fourteen comedies, and seven short plays. Siobhan went on to elaborate about how these examples are just a small sample of a vast body of evidence that shows that being creative helps you grow in non-art-related directions and can make you better at whatever you do. Regular creative exploration helps you see things in new ways, broadens your vision, and uses your imagination—skills that can be applied to every facet of our lives. You don't have to be a talented or ambitious artist to reap these rewards: You just have to make art, and do it regularly. Not only that, there are also very concrete health benefits to cultivating a creative practice in your life. Researchers have found that being creative lowers stress, activates the "reward center" of your brain, helps you focus, and improves your mental health. Most interesting to me (and relevant considering everything above) is that making art helps you imagine a future beyond the present moment.
Ultimately, I appreciate this reasoning: Art is good for me! Being creative hones important skills, develops abilities that will help me thrive, and is good for my mental health. But there's something else, something less concrete that isn't quite encompassed here. For this I look not to Winston Churchill, but back to Dan and Fowler. A clear objective, spiritless efficiency, and optimization were not enough for Dan, and never would have been. Fowler's success offers some insight into how creativity can keep us going—not like air or water or food, but in a more magical and sometimes equally vital way. 
Now when I ask myself what the point is, something along those lines feels most to me like the truth. For my birthday I bought myself Lynda Barry's What It Is. Flipping through it one night, I read this comic: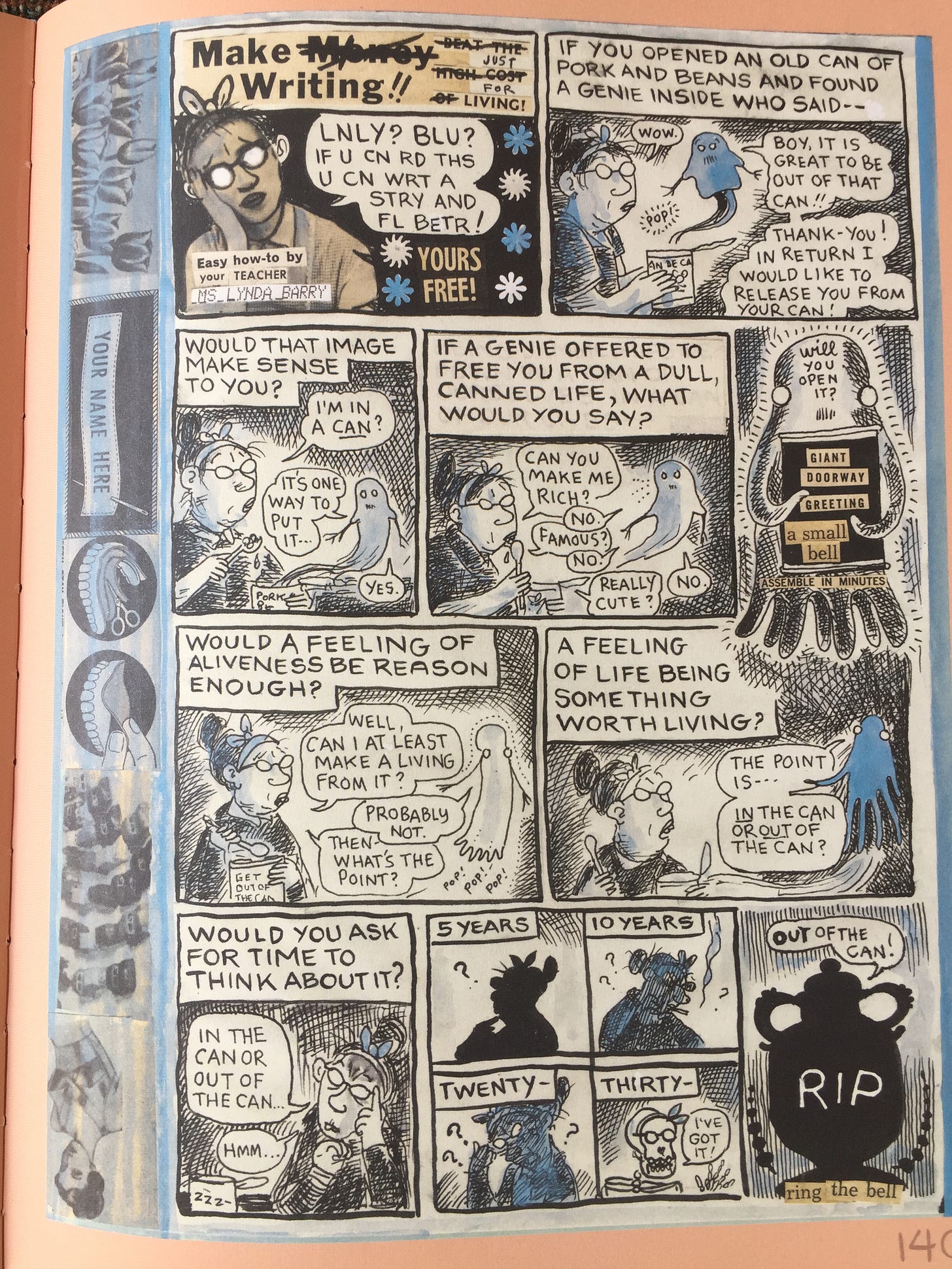 I agree, and I think Fowler would too, and maybe Winston Churchill, the Wright Brothers, and Catherine the Great. A feeling of aliveness—that's it. That's the point.
THE WEEK IN WORK
This is the last week of my sabbatical! Holy smokes. I feel a little sad of course, but also excited about incorporating the new things I've learned into life that includes an actual job - a challenge I'm hoping I'm ready for.

This week I completed Week 7 of The Artist's Way which focuses on eliminating perfectionism and embracing possibility. I kept up with morning pages every day. I have almost filled an entire notebook! Considering my large back-log of quarter-filled notebooks, I find the rare completion of one very satisfying.
For my Artist's Date I returned to the de Young Museum, this time to see the special exhibit on Frida Kahlo. I learned a lot about her, and I was inspired by her deliberate construction of her artistic identity. I was also inspired by her self-portraits, so this week I tried my hand at drawing my own self-portrait, something that I've really shied away from in the past. Drawing yourself is really hard and it's why I look different in every comic I draw! I'm hoping that working on formally sketching my self-portrait will help me develop a more regular look for my comic-book self, too.

I started #inktober on Instagram and so far have done all four of the prompts for this month! I am saving them in my story highlights on @krista_makes. 

Continuing to post occasionally on @krista_makes and sending this weekly newsletter. Here are the archives in case you'd like to catch up.
MAY I RECOMMEND
Reading the NPR article linked above is excellent and was accompanied by this article and this printable and very cute zine about cultivating a creative habit.

Eating this bruschetta, introduced to us by Sadie and Scott. It's sooooo good and now in regular rotation until tomato season ends. 

Watching the new season of PEN15 on Hulu, which is amazing and painful and beautiful. Fine art, in my opinion!

Reading this poem about creativity by Grace Paley, "The Poet's Occasional Alternative."

Hanging a bear in your window. If you drive around San Francisco you'll notice a lot of honey bears posted in windows. Honey bears with wine glasses, honey bears as David Bowie, honey bears with BLM shirts on. The street artist fnnch has been selling inexpensive paper prints of their honey bears to support various causes. They're sold out at the moment, but new ones are posted regularly. Sign up for their newsletter to find out when the next release is, and add some bear flair to your window! 
Thanks for reading! This was a long one, I know. Please reply to this email with the answer to the question, "What is the point of it all?" 😎 Just kidding! But I really would love to hear from you, be it about purpose, creativity, or PEN15. Have a great week.
xoxo,
Krista